Commercial Refrigeration & Ice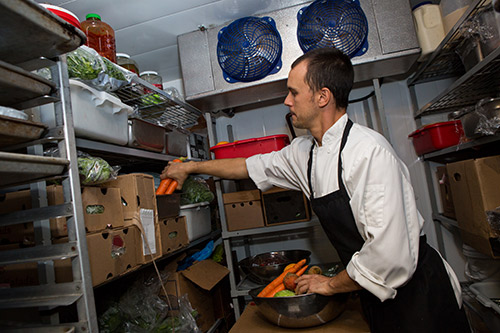 Cooling & Refrigeration Solutions for Your Space and Budget
Food waste can cut into your profits in a big way. Properly refrigerating or freezing food ensures a longer life and keep you ServSafe compliant. We offer commercial refrigeration options in Eastern Maine that will fit your space and budget. If you operate any type of foodservice establishment, it's important to have a reliable commercial refrigerator, so you can hold and store ingredients, leftovers, prepped sauces, and frozen meals. Whether you're looking for a full walk-in cooler or commercial freezer, or you need a smaller undercounter or prep unit, we have you covered. We also carry merchandising units that will keep meats, cheeses, deli salads, and other perishable items fresh while enticing customers to purchase them.
As a commercial refrigeration dealer, we carry a wide range of brands including: Atosa Refrigeration, Norlake, Turbo Air, and many other manufacturers, letting us meet your restaurant's refrigeration needs with our full spectrum of equipment, from bar kegerators to heavy duty commercial refrigerators, our inventory of restaurant equipment in Ellsworth is ready to help your kitchen stay cool under any circumstances. We understand your local needs and looking forward to bringing refrigeration to your business, whether your needs are a super sized beer cooler, a walk-in or a sandwich prep we are excited to be a trusted part of your business crucial functions.
Glass door
Solid door
Undercounter
Chef bases
Sandwich prep tables
Pizza prep tables
Ice cream machines
Ice cream dip cabinets
Grab & gos
Bakery Display cases
Bakery cases
Any size Walk-ins – Request A SITE Visit
"Beer Caves"
Brands: Atosa, Norlake, True, Turbo Air, US Cooler, Howard McCray, Fogel, Hydra-Kool